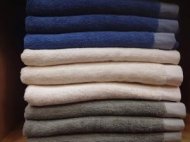 100% licensed US-grown natural Cotton Towels by Earthsake!
Our company is proud to introduce our brand-new distinct luxury natural cotton fiber towels - utilizing local natural cotton! Naturally soft and absorbent, easy classic design details that appeal to any restroom, and a deluxe experience. Built in the united states!
Woven from long staple US-grown organic cotton fiber with band spun yarns (double plied), chemical no-cost finish, no softners, formaldahyde or silicone made use of. Coloured only with Azo-free dyes.
Shade options(as shown top to base):
Sand (Natural)
Ocean (Blue)
Leaf (Sage)
To be qualified Organic Cotton, fields needs to be chemical free for at the least three years, including no run-off from surrounding places where chemical substances might be utilized. These towels meet the greatest requirements for licensed organic cotton by GOTS & USDA.
To be Earthsake branded towels they must not only be organic and pure but regional - the natural cotton can't be grown overseas like the majority of other natural cotton fiber towels you will discover - regardless if "made inside USA". We source natural cotton from little organic facilities right here in the us (California & Tx) for a small carbon footprint and to support our neighborhood farms, local economic climate and local attempts to change society for the better. We believe globally and act locally - using the Earthsake label on these towels you will have the confidence in understanding that we sourced the greatest, many luxurious product when you look at the most healthier & regional method feasible. The Earthsake type of products are organic, pure & neighborhood - and also at 560gsm they are as comfortable & luxurious since they are environmentally sound.
Sizes: Wash - 13x13, Hand – 17x28, Bath – 27x52, Sheet – 36x72, Tub Mat - 21x33