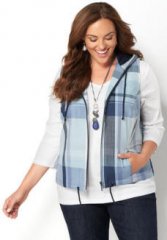 More Colors Available

Hooded Plaid Vest
Size 4 - 26W

Pima Cotton Tee
Size XS - 3X

Organic Cotton
Multi-Layer Dress
Size 12 - 30W

Cotton has become harder to find in recent years, especially in value priced lines. But, those who like natural fibers for either ethical or health reasons often prefer wearing it. Pure cotton clothing is even less common with cotton blends for wear ability and fit being the norm. The rarest and most expensive is organic cotton clothing found in plus-sizes with only a few upscale designers interested in green and sustainable fashion.

Eileen Fisher is the most widely available label in plus-sizes that uses organic fibers but the growing interest by the public means other labels are beginning to experiment with offering it. The most notable is the more moderately priced PURE collection at available in size 12 to 30W.

Those who prefer cotton often also enjoy other such as linen, wool, cashmere, and silk.

Plus-size clothing is often engineered with stretch to the fabric to help fit a variety of body shapes. While pure cotton knits can achieve this, woven fabrics will add a touch of synthetic fibers such as spandex. Cotton can also be blended with other natural fibers, the most common of which include ramie, modal, and rayon.


Shopping Resources for
Natural Cotton Fiber Clothing

No iron shirts from, however, are often 100% pure cotton in size 0 to 24W for those who want synthetic free clothing. Other classic retailers such as and also stock many pure cotton styles. Lands End is also one of the best places to find a wide variety of sizes, including petite and tall sizes to 18, and women's to 26W.

is another good spot for moderately priced cotton basics such as sweaters, tops, and twill pants. Denim jackets and classic jeans are also regularly available in both regular and petite inseams. Sizing here ranges from size S to 3X. Slightly more expensive but excellent quality are the classic options available through . Basic cotton solid tee shirts in feminine cuts and cardigan sweaters are especially good here in size S to 3X. Meanwhile, offers classic tailored styles for both work and sportswear in natural fibers including a good selection in cotton. Noteworthy is their sizing which is available in both average and petites for women extended plus-sizes.

Classic plus-size clothing is the most common style available in cotton. Cotton knits lead the category, but classic woven cotton shirts and denim clothing are frequent. Of the designers the most popular working in natural fibers includeand .

BoHo styles, particularly those made from prints from India, can also come in pure cotton and are especially popular during the summer festival season and, cruise and resort season.

Those who prefer artsier style will find plenty of natural fibers at which is beginning to carry more extended sizes to 3X, as well as which has recently returned as an e-commerce and catalog retailer only.

In recent years the vintage modern dress trend has also produced more cotton styles for the trendy market. These can be purchased from department stores, , and in sizes up to 6X.