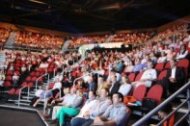 Cotton growers and business associates from across Queensland and NSW have gathered to attend the big event, that will be becoming held over 3 days within Gold Coast Convention & Exhibition Centre. The big event concludes because of the Australian Cotton Industry prizes gala supper on Thursday, August 4.
The Australian Cotton Conference is a combined initiative of Cotton Australian Continent plus the Australian Cotton Shippers Association.
Cotton Australia CEO, Adam Kay, states the function has drawn cotton growers, ginners among others in the industry from because far north as Emerald in Queensland, and from since far south as Swan Hall in Victoria.
"Every couple of years, the Australian Cotton meeting is a fantastic window of opportunity for growers in the future together and network as a part of the broader cotton neighborhood as well as interact with the whole supply string, " Mr Kay states.
"The record number of attendees, a lot more than 1900, speaks about our industry's strength and our place in the farming neighborhood."
"Importantly, in 2010's features attracted a significant contingent from Southern Valleys - the Riverina and Northern Victoria - which represents the area of quickest growth for our business."
Features from the first-day of the 2016 Australian Cotton Conference feature:
Starting session
The Conference ended up being exposed by meeting seat Stuart Armitage, who launched the keynote speakers Alex Malley (CPA Australia) and David Thodey (CSIRO).
iGEN focusses on skills and improvement our industry's future
Cotton meeting delegates aged 18-35 loaded in to today's iGEN session sustained by Monsanto. Attendees heard from a selection of inspirational speakers. The program, chaired by Cotton Australian Continent Education Coordinator Sophie Davidson, attracted most delegates.
Speakers and features into the iGEN program included:
Daniel Kruithoff, Monsanto: job pathways in Australian farming, leadership aspirations of this after that generation of agriculture's staff, and how to approach profession development for young people getting started within their chosen job road.
Lynne Strong, image You in Agriculture: producing good messages to handle personal license issues, growers as entrepreneurs of one's own industry/commodity and successfully telling the storyline of those and techniques behind the foodstuff and fibre industries feeding and clothing Australians. Delegates also learned about a few of Lynne's projects, including the cotton fiber younger agriculture Champions and Archibull reward programs, proudly sustained by Cotton Australia.
Growers updated on Bollgard 3 and beyond
The 'Bollgard 3 and past' session, chaired by Simon Corish, Cotton Australian Continent Chair and Goondiwindi cotton grower, provided a way to reflect on 20 years of biotechnology in Australia. Attendees heard from Australian cotton fiber growers and the ones in the industry utilizing biotechnology to produce a few of the world's best cotton fiber in Australia.