Unisex Track Jacket by American Apparel
Slimmer fit
Urban Fleece Track Jacket for Men and Women, 100% cotton, Brand: American Apparel
Choose a size
Add to wish list
Ready to ship in 1-2 days
Product Details
Description
High Tech, Low Life's, Unite. Dustrial - Cyberpunk Clothing - Sci-Fi Street - Future Fashion.
Urban Fleece Track Jacket for Men and Women
100% cotton
Brand: American Apparel
This fashionable track jacket by American Apparel is like your favorite long sleeve and your favorite sweatshirt came together in one. This clothing chameleon is a year-round wonder. It's ideal in the fall, a warm layer in the winter, and a great spring and summer throw-on.
100% cotton | Fabric weight: 7.2 oz (midweight)
Reinforced, double-knit stitching throughout
Ribbed cuffs and waist, mock neck and split-by-zipper, kangaroo-style pocket
PLEASE NOTE: Tailored for a slim fit; for a more generous fit, order a size up
Made, processed and printed in the U.S.A.
Size chart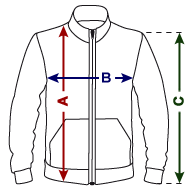 A (inch)
B (inch)
C (inch)
23.5
17.99
26.5
25.0
19.02
26.73