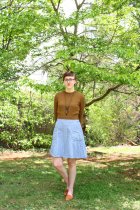 Today I'm excited is doing a style swap with Leah from Stylewise! We each styled the most popular honest dresses. Check-out to see my outfit.
My personal favorite ethical dress may be the by Mata dealers. I purchased it during an end-of-season purchase early final fall, which intended it sat in my wardrobe for approximately 5 months before i really could put it on as a proper sundress. Since it was somewhat cool and I also planned is outside, I wore a cropped sweater on it today.
I've had some outfits by !
They also have a knit cotton range this year, thus I believe I'll have much better fortune with fit in the near future.
I adore the textured, linen feel of this material and undeniable fact that it pairs with nearly every color. In addition just like the 1930s farm woman aesthetic and the square neckline. It's a straightforward piece with a few standout details. Plus, it was made under fair trade guidelines by a women's co-op in India, and so I can appearance great putting on it.
Now that I've spent all this work time scrutinizing it, i wish to replenish on more easy-to-wear dresses such as this one!