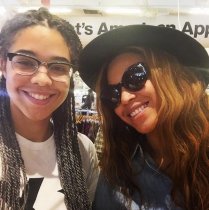 One of Sade Sanchez's employees, Cerise Castle poses with Beyoncé for a selfie at American Apparel's Melrose Ave location. | Photo courtesy Cerise Castle
For job seekers looking to work their way to the top of the retail industry, it's important find your start with companies at the forefront of innovation and cultural relevance. One company that clearly fits this bill is American Apparel, the giant of simple but striking clothing, made in America and sold in busy stores in major cities all over the world.
Located in the heart of Los Angeles' fashion and design district, the retailer's Melrose Ave location is just outside the hustle and bustle of Hollywood. To work in this industry and location, there are skill sets and key personalities store managers are looking for.
Monster spoke with American Apparel store manager Sade Sanchez at the Melrose Ave location about how job seekers can land a retail job with her esteemed staff.
Q: What about a potential employee's resume has to jump off the page in order for them to get an interview with you?
You get so many resumes a day and they all begin to look the same. Really, they just have to want it and have the right character. If that sticks out on paper, I am likely to call you if we are hiring. When you go that extra step with your resume and use "special" paper or attach a cute photo – that makes your resume stand out.
And obviously, if you have retail experience or any customer service, that's a plus. But some of my best employees that I hired never even had jobs before.
Q: Once they get in for the interview, what are the personality traits you look to pick up on?
I look for people who can give professional answers but still show their personalities. People who are genuine and upbeat. Positivity in all answers and charisma.
Q: What else about an interviewee do you pay attention to?
I pay attention to the way they are dressed, how quickly they give answers and their body language. I am also huge on politeness.
Q: What's the toughest question you've asked in an interview?
In my opinion, there really aren't any difficult questions. Most people are just worried about giving wrong answers and hoping they are saying what [I] want to hear.
Q: What are some of the best answers to interview questions you've been given?
It is important to be honest and refrain from negativity. The truth is that customer service and the retail world can really be awful at times and it's all a matter of having a positive attitude that is not affected. As long as there is no sense of strong ego or negativity in your answers, you'll probably be fine!
Q: What are the worst?
The worst answers were people who talked about hating their jobs and bosses or co-workers.
Seems simple enough, right? While experience helps, personality and professionalism are the key to any interview and certainly to landing your dream retail job.